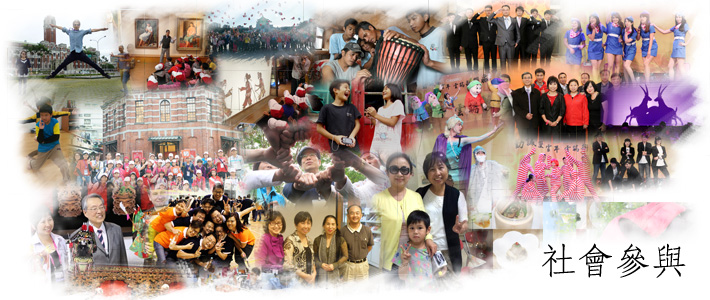 Talent cultivation
Sponsorship for The Alliance Cultural Foundation
 

For helping the home coming aboriginal youth cultivate the ability for a sustainable operation and helping aboriginal elites return home to work, Chenbro has sponsored The Alliance Cultural Foundation since 2012, providing the students in Hualien and Taitung with a good learning environment and bright future.

 
Sponsorship for the "Vmaker" Program of the Executive Yuan
In order to let more people in Taiwan understand and promote hands-made creative culture, the Executive Yuan has launched the "vMaker" plan since early 2015, divided into three stages to build up Taiwan's "Maker" power, namely Fab Truck Tour / Make for All Digital Manufacturing Competition / Fab Lab Asia Annual Conference. When technology is no longer a problem, creativity becomes important. Chenbro deeply understands the importance of creative talent for the future development of Taiwan; therefore, sponsors the "vMaker" plan to contribute to Taiwan's talent cultivation effort.
Yunlin Art Light-up Project
Chenbro has promoted the "Yunlin Art Light-up Project" for three consecutive years since 2013 that is organized by AAEON Foundation and sponsored by Chenbro and Chensource. The two companies have also urged employees and their families with more than two hundred volunteers to join the good cause, donating money and volunteering manpower. There were more than 50 participating schools with 3,945 teaching activities held starting from the first year, with a grand total of over 200,000 teachers and students involved.
Internship opportunities for talented students
In 2015, it was the first time Chenbro cooperated with National Taiwan University of Science and Technology, which was a 2-month internship opportunity for talented students. This could not only help them learn by accomplishing projects, but also help Chenbro employees refresh minds with their innovative and creative thoughts.
Social Care

Visitation of under-privilege families in New Taipei City and Yunlin County
Chenbro, in addition to donating to Social Affairs Bureau of New Taipei City and Yunlin County annually, will grant the "volunteer leaves" to employees for a three-day under-privilege families care tour every three months in New Taipei City and Yunlin County, to help those under privilege family feel the warmth of the society through resources distribution and knowing that there are many more families need helps through accompanying them.
Arts and culture promotion

Support Taiwan's traditional puppetry culture
Chenbro had made donations since 2012 to support Taiyuan Puppetry Museum (Taiyuan Foundation). In addition to financial sponsorship, Chenbro also held several dinner banquets and performances to vigorously promote the group to the business world for amplifying the corporate support. Take actions to help the development of cultural and creative arts in order to fulfill the corporate social responsibility.
Support Taiwan's traditional Opera culture
Chenbro understands that it takes rich soil and nutrient to root culture and to promote arts. Therefore, we have sponsored Contemporary Legend Theatre to strive and revive the dying opera culture of Taiwan and to carry on the spiritual heritage.

Environmental Sustainability
Promote organic vegetation
Chenbro has already sponsored Huei-Shiang Organic Farm in Miaoli for three years since 2013 to promote the concept of organic healthy vegetation diet, and to support organic farmers promoting organic products. Chenbro had arranged the spring break in both 2015 and 2016 to visit Huei-Shiang Organic Farm for experiencing the importance of organic farming. It is desirable to awaken attention and care of the more people for organic vegetation diet.
Plant trees for loving the Earth
Chenbro is deeply aware of the urgency of caring for the land and environmental protection. The Chairman, CHEN MEI CHI, urged over one hundred employees and their families to plant trees on March 22, 2014 to love the earth with action. For the protection of the water source and soil conservation of Liyutan Dam in Miaoli, all betel nut trees had been cut off with calocedrus formosana and stout camphor planted instead that will grow up in 50-100 years. Complete the goal of green earth.