Chenbro to Bring Customizable Server Solutions to Europe's Leading Cloud Tech Exhibition
Chenbro to Bring Customizable Server Solutions to Europe's Leading Cloud Tech Exhibition
Willich, Germany – (date): Chenbro GmbH is thrilled to announce its participation in CloudFest, Europe's leading cloud computing event, held in Germany in March. Chenbro will exhibit its most advanced server chassis at booth #G17, integrated with motherboards from Gigabyte, Tyan, and ASRock Rack. Visitors can also learn about the pathbreaking Reference Motherboard program, which helps customers deploy their ideal solution with the lowest possible cost and timeframe.
"Chenbro has one goal: guiding customers to the server solution they need, from the chassis on up," says Chris Tsai, Chenbro's European sales director. "Our team in Germany works with the most experienced integrators in Europe to ensure endusers get solutions that not only match their budget and specs, but are unparalleled in reliability and ease of use."
"We accomplish this by combining our forty years of industry leadership with a philosophy of simplicity, flexibility, and scalability," Tsai continued. "This approach allows us to address every customers' unique requirements. Our chassis use a building block architecture so compatibility with preexisting systems in ensured. We also use unique structural innovations, cutting-edge manufacturing techniques, and advanced logistics to provide the specs, scale, and price points customers need."
Representing Chenbro's datacenter storage solutions at CloudFest will be the RM43736, a 4U chassis with 36 3.5" drive bays. The RM43736 has drive bays on both sides as well as the front, so all 36 drives can be swapped out quickly without accessing rackmounts' rear aisle, saving significant maintenance cost. It will be displayed with ASRock Rack's SPC741D8UD-2T/X550 motherboard for Intel Xeon Scalable 4th generation processors.
For edge computing Chenbro will display the RM352. This chassis is optimized for powerful compute at industrial and other out-of-datacenter locations. It has options for front or rear I/O and space for eight full-height PCIe cards and six SSDs. Installed with the RM352 will be Tyan's S8030 motherboard, built to support a single AMD EPYC Milan CPU.
Also on display will be the SR115 tower chassis for workstation servers, designed for labs or offices with the option for rack mounting. The SR115 will feature Gigabyte's MC13-LE1 motherboard for AMD Ryzen 7000 processors. This configuration can support two GPUs and would form an ideal platform for simulations, analysis, machine learning, and other intensive applications.
Rounding out Chenbro's booth will be the RB251, our 2U barebones server. This includes a unique T-shaped motherboard from Intel based on their Coyote Pass platform. This design enables excellent thermal performance and capacity for eight PCIe cards.
Cloudfest will be held from March 20 to 23 at Europa-Park, Germany. Visitors can contact Chenbro in advance to arrange a meeting at: chris.tsai@chenbro.com. Chenbro's booth will be located at booth #G17.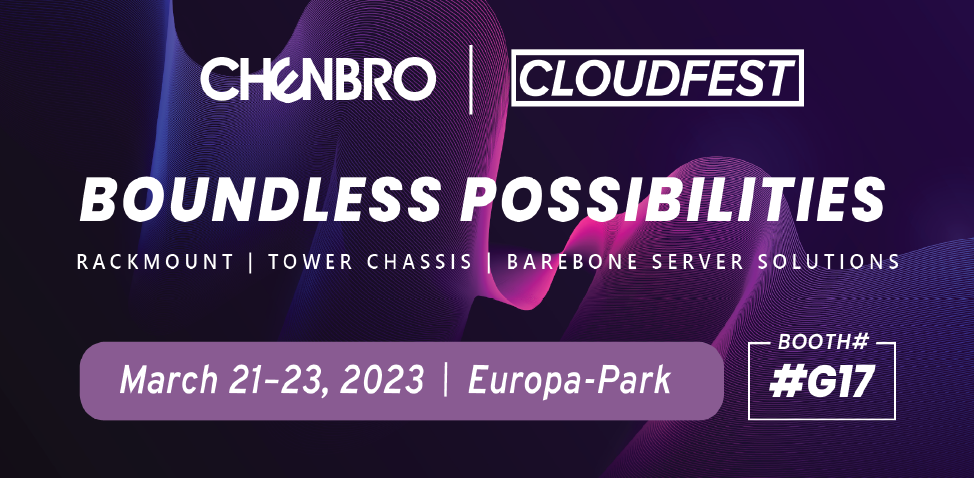 About Chenbro
Founded in 1983, Chenbro (TWSE: 8210) has been the trailblazer in designing and manufacturing of own-brand rackmount system, tower server and PC chassis for over 40 years. Chenbro is not only qualified by the first-tier server brands and provides OEM Plus and ODM/JDM services with EMS companies, but also successfully develops its OTS (Off the Shelf) products to meet market demand. Chenbro extends its business footprint to datacenters and industrial solutions by continuously investing in technologies and delivers the most trusted server and PC chassis with the highest standard of innovation.